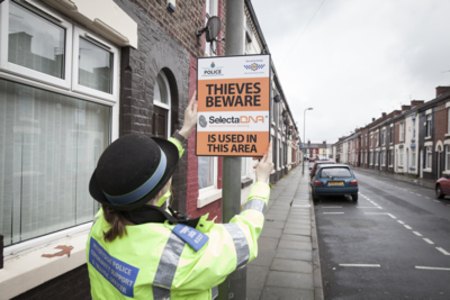 Criminals on Merseyside have been warned that their cards are marked as police launch their latest burglary-busting tools against acquisitive crime.

On 2 June 2014, as part of the force's continued fight against domestic and retail crime, Merseyside Police launched a forensic marking operation using SelectaDNA's leading crime fighting range of Traceable Liquids.

Merseyside Police are offering 2,500 homeowners a SelectaDNA property marking kit to mark household valuables such as iPads, mobile phones and flatscreen TVs. They are also signing up 30 retailers to benefit from the protection that SelectaDNA Spray can offer against anyone committing a robbery, raid or break-in.

The SelectaDNA Spray can be activated by a member of staff in the event of a crime and the forensic spray leaves a mark on the offender. The mark, which is unique to each shop or business, is then visible under a UV light, which makes it much easier for officers to identify offenders.
Chief Inspector Jenny Sims, said: "As well as offering homeowners extra measures against burglary, we are continuing our efforts to tackle retail crime.

"The force works closely with bookmakers, off-licenses and convenience stores and we offer crime prevention advice and point them in the direction of the most appropriate security measures.

"Retailers are now also using forensic sprays as a further security measure to deter people from committing these offences and identifying anyone who does commit this type of offence.

"Local businesses play such an important role in our communities and Merseyside Police will do everything it can to make them as secure as possible."
As part of the force's commitment to tackling burglary, officers and PCSOs from the Liverpool North Old Swan neighbourhood, have been going door-to-door offering SelectaDNA forensic marking kits and crime prevention advice to the community.

Chief Inspector Jenny Sims, said: "Merseyside Police is absolutely committed to tackling burglary and we want to make it as difficult as possible for would-be burglars.
"A burglary can have a massive impact on the victims. Not only has someone broken into your home but they've taken valuable items that you've worked hard for."
She added: "Each forensic marking kit has a unique code and the marker leaves an indelible mark when applied to your television or phone. If this piece of equipment is stolen and then later recovered, the mark can be identified and the item returned to its rightful owner. I would recommend making your treasured possessions as secure as possible."
Back to 2014 News Stories
Related Products