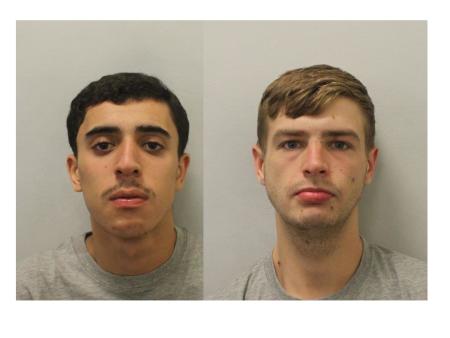 Two men who were sprayed with SelectaDNA Tagging Spray after committing phone snatches on a moped and engaging police in a high-speed pursuit across London have each been sentenced to over two years in prison.
The court heard how Jack Green, 22, (the moped driver) and Tarik Oliveira, 19, (the pillion passenger) both from Southwark, stole a moped on Friday, 17th August, which was used in three mobile phone snatches in a half-hour period in Greenwich, south east London.
Shortly after, CCTV operators from Tower Hamlets Borough observed two men on a moped acting suspiciously, and believed they were "looking for people to rob".
Local officers located the suspects and were joined by traffic officers, supported by a police helicopter.
Green and Oliveira made off from police on the stolen moped, which was driven dangerously fast through south London as they attempted to evade officers in pursuit.
When the offenders arrived in Southwark, Met Police officers managed to forensically tag them with SelectaDNA Tagging Spray. The spray is one of the main tactics being used by Met Police to combat moped crime. It can be aimed by officers at suspected moped and motorbike offenders involved in crimes such as robberies, assaults and smash and grab raids.
The DNA tagging spray marks the bikes, clothing and skin of any riders and passengers with a uniquely-coded but invisible DNA that will provide forensic evidence to link them to a specific crime.
The pursuit went on for around 90 minutes, before the moped collided with a bus in Coldharbour Lane, Brixton. The two men ran off but were detained shortly afterwards after a foot chase.
Oliveira was searched by officers who found he was in possession of five mobile phones including those stolen in the three robberies committed just before the pursuit.
On Friday, 12th October both men pleaded guilty at Inner London Crown Court.
Green pleaded guilty to: conspiracy to steal; aggravated vehicle taking and dangerous driving; failing to stop after the scene of a collision; failing to stop when required to do so by a police officer; driving not in accordance with a licence and driving without insurance.
Oliveira pleaded guilty to conspiracy to steal and allowing to be carried on a stolen vehicle.
Green was sentenced to 28 months and Oliveira was sentenced to 26 months for his role.
Detective Sergeant Mark Kelleher, from the Venice Investigation Team, said: "Green and Oliveira embarked on a spree of snatches where victims on their mobile phones were targeted.
"They were reckless and risked the public's safety by making off at speed through busy London traffic when trying to evade police, eventually colliding with another vehicle before being arrested.
"Criminals on mopeds think they have the upper hand because of their ability to make off from the scenes of their crimes and from police at speed, by weaving through traffic. In this case, a combination of good quality CCTV coverage, specialist officers, and the police helicopter meant that they had few avenues of escape.
"The Venice Investigation Team is committed to ensuring that those who commit moped-enabled crime face the consequences of their reckless and dangerous acts."
Met Police image: Tarik Oliveira (left), Jack Green (right)
Back to 2018 News Stories