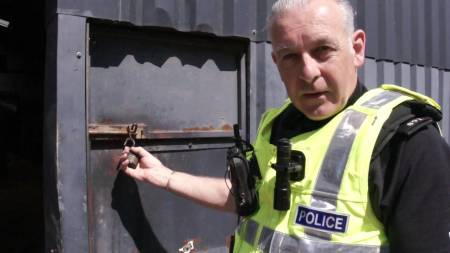 A Rural Watch scheme that promotes the use of SelectaDNA to deter rural crime was recently launched by Police Scotland, in association with NFU Scotland, across the county of Fife.
Main issues in the area that have been troubling the rural community are theft of quad bikes, horse-boxes, metal and diesel.
The scheme currently has 650 members, but has a far greater reach due to email updates being forwarded on by various farming-related agencies including NFU Scotland. Members are kept up to date with the latest crime trends & technology and are offered free security surveys from trained Crime Prevention Officers.
PC Fraser Laird of Police Scotland, said: "These surveys have proved to be very popular and can be a simple, inexpensive measure to safeguard property. They also provide us with the opportunity to promote SelectaDNA - and over 90 kits have been purchased by Ruralwatch members so far."
The SelectaDNA Rural Kit is a forensic property marking solution that can be used to mark vital equipment, machinery and premises to help prevent rural crime. Each kit marks approximately 50 items and protects tools, equipment, gardening and agricultural machinery. The solution contains a unique DNA identifier that allows stolen goods to be traced back to the rightful owner.
Kate Maitland, Manager for NFU Scotland's East Central Region said: "Crime remains a blight on the rural community and farms in Angus, Fife, Perthshire and Kinross continue to remain at risk of theft and damage.

"This joined up approach across a number of agencies and companies helps farmers easily identify some relatively simple measures that they can put in place to reduce their risk and protect their property.

"As the threat from those intent on theft from rural properties grows, it is increasingly important that farmers and rural dwellers pull together, join their local Rural Watch and get to know when and where there are risks to their business and what they can do to combat them."
PC Laird added: "Rural Watch is not just a means for us to pass on relevant information about rural crime, it is also a means by which the Police receive information from members about suspicious vehicles or persons attending at their properties.
"There have already been a number of notable detections from information received from Rural Watch members relating to fly tipping, theft of quad bikes and recovery of property.
"We will continue our concerted efforts to tackle rural crime in the communities we serve."
Back to 2016 News Stories