We are proud to be a Specialist Partner of Aviva Insurance.
We are working with Aviva, a leading UK insurer, to provide customers with the peace of mind that by using our security marking products, we can protect their precious belongings and the things they love.
Selectamark Security Systems Plc is a leading supplier of security marking and asset identification solutions which deter theft and help recover stolen property. The company has been at the forefront of providing police and insurance recommended solutions since 1985.
Selectamark also now offers a range of protective screens designed for use by all types of businesses to protect customers and staff from transmission of viruses via coughs and sneezes.
Selectamark is a member of the British Security Industry Association and holds ISO9001, ISO14001, and ISO27001 accreditations for its Quality, Environmental and Information Security management systems.
Did you know?
There were over 3.3 million instances of theft and burglary in the UK in 2016/17 (Source: Crime Survey for England and Wales year ending March 2017)
From liaising with UK Police Forces, and listening to our customers, we understand that the most commonly stolen items from homes and businesses include laptops, tablets, mobile phones, jewellery, tools, cars, vans, motorbikes, mopeds, outboard engines, bicycles, plant and machinery.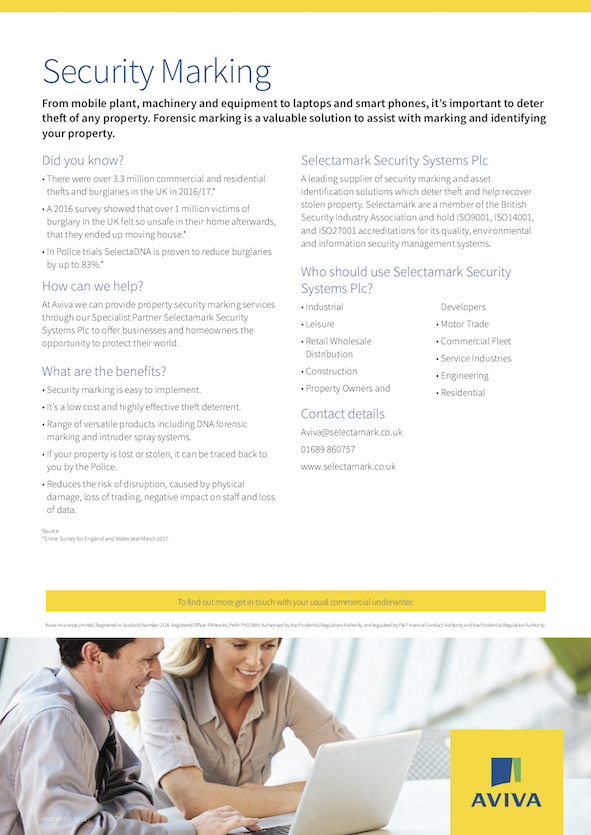 How can Aviva and Selectamark help?
Using Selectamark's innovative security marking systems reduces the risk of your property being stolen. Police-initiated projects have reduced burglaries by up to 83% in some cases. Warning signs provided with the solution act as a highly effective deterrent to thieves.
Selectamark constantly trains Police and law enforcement agencies on how to detect and identify stolen property, and there are even SelectaDNA search dogs used by the Police during search warrants and roadside checks.
What are the benefits?
Easy to use, low cost and highly effective theft deterrent
Makes your premises a hard target for thieves, keeping you safe in your home
Range of versatile products including DNA forensic marking and intruder spray
If your property is lost or stolen, it can be traced back to you by the Police, reuniting you with your treasured and valuable possessions
For businesses, it protects against the disruption caused by theft and burglary, such as physical damage, loss of trading, negative impact on staff and loss of data from stolen phones/tablets/laptops
Products and solutions

A patented, award-winning forensic marking solution which is Police approved, and supported by Crimestoppers.
SelectaDNA Property Marking kits for commercial use, come in 3 different sizes to mark 100, 500 or 1,000 items. Exterior warning signage is included. These are also available at a 16% for Aviva clients. Find out more here.
SelectaDNA MetallicDNA for protecting valuable metals and other external property, comes in an easy-to-deploy spray canister. Contact Selectamark with your specific requirements for a quote.
Click here for more information.

A permanent and visible theft deterrent that uses a chemical etching to permanently and visibly mark property.
Ideal for use on vehicles, plant, tools, machinery, and tested to LPS1225. Discount of 16% to Aviva clients.
Click here for more information.
Our range of highly secure and durable asset labels will help your organisation keep track of its valuable assets. The range includes the market-leading TESA Security Labels which are suitable for indoor and outdoor use, and have the highest level of resistance to sunlight, heat, abrasion and chemicals.
Discount of 16% available to Aviva clients.
Click here for more information.
BikeRegister is the UK and Ireland's leading cycle marking and registration scheme. BikeRegister is used by all UK Police Forces to help deter theft, recover stolen bicycles and secure convictions.
With over 900,000 bikes already on the database, it is a valuable resource for Police to check the ownership of bikes, and this can be done using the BikeRegister App.
BikeRegister can be used by employers to help safeguard their employees' bicycles, therefore further encouraging cycling to work.
Click here for more information.
Robbery and Commercial Burglary deterrent
SelectaDNA Intruder Spray is the ultimate commercial burglary and robbery deterrent, and an ideal way for businesses, shops, banks and other premises to protect their valuable stock, assets and staff.
The SelectaDNA Intruder Spray can be linked to intruder alarm systems, or installed as a stand-alone system activated by a panic button. Once triggered SelectaDNA Intruder Spray will soak intruders in a solution containing a unique DNA code and UV tracer, to enable the Police to irrefutably link them to the crime scene. Click here for more information.
Contact Selectamark with your specific requirements for a quote.
Contact details
Please email [email protected] or call 01689 860757 with any queries.
For special Aviva customer discounts please quote:
AVIVA16 for all security marking solutions
AVIVA10 for DNA intruder spray solutions
AVIVA8 for protective screen solutions